Professionals at DH study the architectural plans of the site and conceptualize the diverse themes and schemes that can transform the site as per the needs, wants and desires of the clients, documented and derived from the minutes of the preliminary meetings with them.

These concepts are then visualized through rendered graphics and the same is presented to the clients with rough estimates of costs.
The interactions during presentation phase usually warrant changes and refinements to the concepts.
The process is looped until it zeros on the final concept.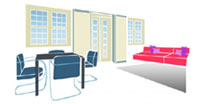 The finalized concept is translated into graphics for visualization by designers, clients and subsequently appointed contractors responsible for implementation.

The graphics of the conceptual design is also vital for material selection.
The next step is to create working drawings with exact measurements and parameters for guiding the work force in proper implementation.
Developments in the building industry have presented the users with a wide array of options under diverse budgetary benchmarks. DH has an extensive databank of materials and their suppliers complete with specifications which is constantly updated. In close coordination with clients and vendors, material requirements are tabulated in terms of quantity, texture, colour, technical specifications, suppliers, price and delivery lead times. The tabulated information is applied in material requirement schedules
Detailed cost sheets are prepared from the information tabulated in previous exercise and matched with the budgetary constraints given by the clients.
If there are cost overruns then a special exercise is undertaken in re-negotiating deals, using cost effective substitutes etc., to fit the requirements within budget without compromising on scheduled material. In inevitable cases, the material requirements are modified to fit the budgetary constraints.
Programme Evaluation and Review Technique PERT is used in sequencing the tasks and events that are essential in executing the design project. Critical Path derived through PERT will depict the time-line of the project. The events and schedules enable DH in determining the supervision criteria and critical management parameters
.


Over the years DH has developed relations with quality contractors that specialize in implementation of designs. Working with such contractors over a period of time has resulted in improved levels of understanding in working styles and quality specifications.
DH recommends the use of their approved contractors to clients. However, clients have the option of using their own contractors and DH provides comprehensive guidance and supervision.
Material requirement schedules prepared and refined earlier are now handed over to clients to enable them to place orders and assure availability of material to contractors. DH recommends vendors but does not involves itself in placement of orders and payment guarantees.
To ensure that right quality and quantity of material is purchased, DH a material inspection programme to ensure only quality material is procured and used in the project.